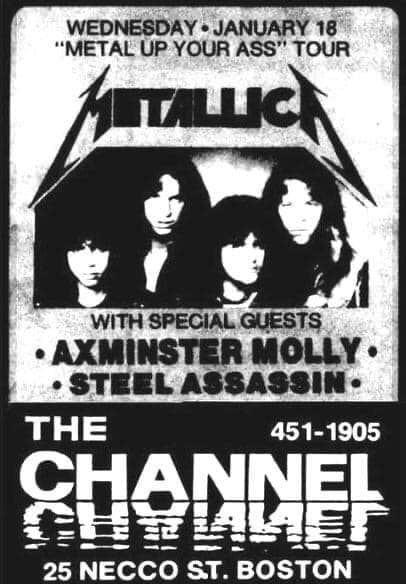 The Metallica "heist". It was January 1984. We had made some noise with our single Teenage Livin' which was a #1 song on WBCN's local music watch. The band's fan base was growing and we landed an opening slot for the band Metallica at The Channel, a good size club that held up to 2,000 people when it was packed. 
The night before the gig, we got a call from the club's booking agent, and he asked us for a favor. Metallica's equipment had been stolen and they needed to borrow our gear. Like Metallica, we also played with Marshall stack amps and Tama drums so he figured we'd help them out.  We agreed. The link to the article from Metal Injection (see the article here) states that AFTER the gig at The Channel, was when their gear had been stolen, but it was BEFORE the show… and that's why we got the call. 
Our road crew had to show up early and they weren't happy about it. They were setting up the stage for Metallica's sound check when a truck with gear lent from the band Anthrax or this could have been before Anthrax lent them equipment - pulled up into the alley behind the stage to load in borrowed gear. 
No one had told Metallica's road crew that we were lending them our gear… AND no one told us that Metallica didn't need our stuff after all. 
Communication Breakdown. 
The road manager from Metallica started screaming at our road manager to get our shit off the stage! He was probably pissed off cause his bands gear got ripped off…on his watch. 
Opening acts never put their equipment on the stage until the headliner tells them to. Big no, no. 
Well the yelling didn't go over too well with our crew. There was some screaming and yelling back, the situation came close to blows thrown between our crew and theirs… and after a few threats someone finally passed the information on to Metallica's crew what we had done. 
Nobody apologized. We didn't get a soundcheck either… 
On with the show. 
Metallica was OK…but the best band that day…and that includes Metallica… was another local band from Brockton called Steel Assassin. 
Great guys who played a tight, ripping set of new wave of British heavy metal… They had a great stage show to. 
It turned out to be a great gig for us…although we were more of a "hard rock" then a metal band, the all ages crowd were into it. We picked up some new fans- James Hatfield wrote Fade to Black in response to the bands gear being stolen.
Halcyon Days!