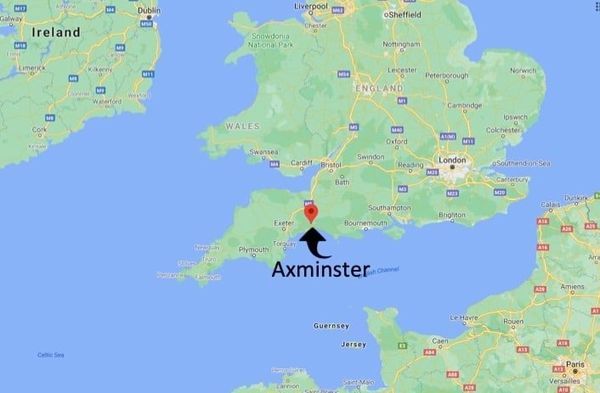 So how did we get the name Axminster? 
To be filed under "Does anybody really care"? 
When searching for a band name, which was taking forever...We actually found the words AXMINSTER on the label on the backside of an old carpet. 
We were soundproofing our rehearsal space and our bass player's dad worked for a carpet distribution company and gave us a bunch of carpet pieces that we hung up on the walls to deaden the sound. 
The name sounded cool at the time,  hey we were teenagers!…...and a little "rugged" (sorry for the pun).
We didn't know it was a town in England but later found out that it was... For those of you old enough to remember...we "axed" the Molly out of the name shortly thereafter. 
Since we are among friends, there was also a piece of carpet on the floor next to the drums that often got used when someone needed it for a late night ride. Sort of like a "Magic Carpet" if you know what I mean…. But as we have said before, that was back when motorcycles were dangerous and sex was safe! 
"Give it Ride" will be the title of our next EP in honor of us laying down fresh tracks.
Back to Axminster…the town… 
Thanks to the Internet, you can see Axminster is a beautiful place with gorgeous rolling hills in the southern part of the UK about 35 miles south of London. 
Axminster is a market town and civil parish on the eastern border of the county of Devon in England, some 28 miles from the county town of Exeter. The town is built on a hill overlooking the River Axe which heads towards the English Channel at Axmouth. 
Coincidentally, there is some connection to locations around our hometown that we discovered! 
The English cities of Exeter, Plymouth and Brighton all border Axminster, with Bournemouth, Reading and Bristol close by too...So I guess we're not the only folks to borrow names from our friends across the pond! 
The mayor of Axminster invited us to come play their annual Yardy Party outdoor festival which is held in the summer…Couldn't make it over this year…but it is certainly on the Axminster bucket list. 
More importantly...THE LAMB INN is also located there! So we know we have a place to stay if we ever go!