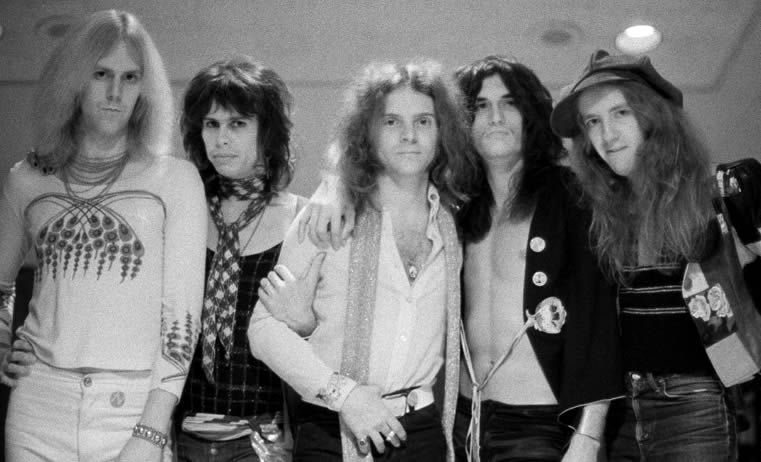 From Steve Sera- Lead Singer/Guitarist: "I get asked a lot what got me into music"? "So here goes"!
GET YOUR WINGS…. 
For some, getting your wings means proving your merit or your skill.  For others, the "Urban Dictionary" has a different definition of obtaining that accomplishment. 
For a kid from the suburbs of Boston, who was in junior high school at the time- I got my marching orders on how to "get my wings" on a cold December night in 1974 at the Music Hall in Boston when I saw Aerosmith for the very first time.  Get Your Wings, coincidentally, was the title of their second album right before the band started to break. 
Now don't get me wrong, a lot of kids were turned on to Aerosmith from where I grew up. They were on the jukebox in the cafeteria, (remember those!) they were from Boston, and they were OUR band. An American version of the Rolling Stones… yet they were meaner, more overdriven, more bad ass…Aerosmith fans were a gang. Blue Army. 
If you got a chance to see Aerosmith "back in the day" you know what I'm talking about. There was NO BAND…at least according to their legion of disciples, that rocked as hard as Aerosmith. 
For me…when Aerosmith hit the stage that December night, it was truly a life altering experience. Yeah…I was already messing around with an old Harmony Rocket guitar and trying to figure out how to get THAT guitar sound we heard on Led Zeppelin II…but experiencing a real rock band, that up close, that intense, that loud… sent me down a road that I just had to travel. 
I don't know if any of the other guys I was with at the show that night felt the same, but it was right then and there that I decided what I wanted to do. 
I had no idea how to do it, or what trip I was about to embark on, or how many great, strange, eclectic, crazy and talented people I would meet along the way- but I found music. The one constant, the solace, my real center. No matter what, my guitar, like a good dog that won't behave, is always there, waiting for me to play it. Sure, there was The Beatles on Ed Sullivan, which I saw when I was 3…mom woke me up! And The Monkees TV show and all the great British bands on the radio- but Aerosmith was a local band on the rise. 
I've was fortunate to have had a "lightning strike moment" when I saw that Aerosmith show, cause' I know there are lots of people who search their entire lives for something that really moves them – like playing music has done for me. 
Down the road, I got to meet the other guys who ended up in Axminster, who are lifelong friends, with the same passion and drive- addicted to the same rush. 
Our band Axminster never "made it" as far as getting signed to that big album deal, selling tons of records or landing that big tour, but when we look at our journey and all the twists, turns and pit stops we've had along the way, we feel grateful to still be able to make music. The roar of loud amplifiers, the sound of electric guitars and yes… that album Get Your Wings still raises the hair on our arms close to 50 years after its release. 
It's not about all the cool bands we got to open for, or the number of CD's we have (or haven't) sold, or the airplay or cool reviews about the band.  Hell…it ain't even about them "nostalgic" days of empty nightclubs or the lack of stage room the "headliner" would ask us to squeeze onto, or the no pay gigs or the 3AM back alley fights between drunk patrons and pissed off roadies. (that was the fun stuff!) 
It's more about the being able to pick up a guitar and write songs with my band mates, and be part of a small group of people who want to be songwriters. 
More importantly, it's really all about sharing our music. It's a rush when we write and record a new song- …toss it out there and say… "hope you dig this"! …and then someone does! 
So, we keep writing, trying to raise the hair on someone's arms, just like good rock still does… and Aerosmith did- and still does to me.
We'd love to hear what got you into music?